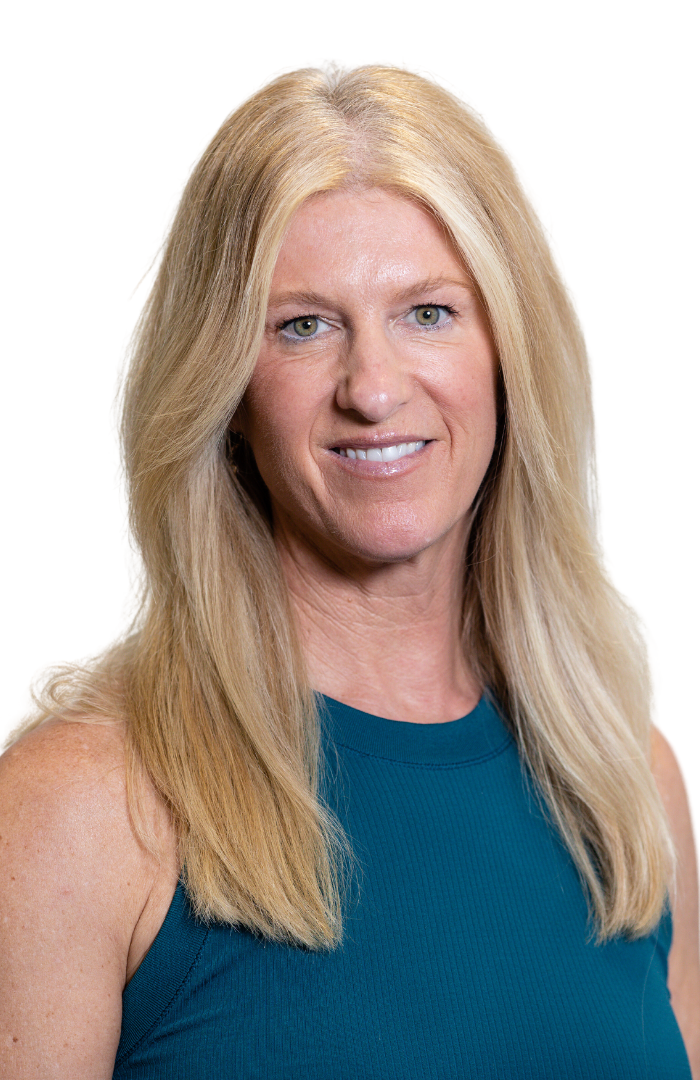 Carrie Mandigo
E-RYT 200
I am a self proclaimed gym rat and a runner. I have run 18 marathons, countless half-marathons and raced more 5K's than I would like to admit. Running centers me, allows me time to myself to think and relieves stress. It also provides me with a sense of accomplishment like no other form of exercise ever has. I knew that pounding the pavement for all these years would take its toll, so I began cross training and exploring various forms of yoga. I never really liked yoga. I admit it was the last thing on my list each week and something I felt I had to do instead of something I wanted to do. If I had little time to spare, I always chose a run over a yoga class. I practiced yoga on and off for about 20 years never really embracing it before I found what I was looking for in Lava Yoga. Lava Yoga was an established business in Topeka and when they expanded to Lawrence, I went to practice the first day it opened. I absolutely fell in love with the style of practice and the people. I had finally found my yoga home.
The classes provided all that I had been searching for … strength, balance, flexibility, detox, stress release, mindfulness and even spirituality. I always left class feeling happy, peaceful, energized and accomplished… whether lying on the mat the whole time or practicing each pose.
The classes at Lava Yoga are not only a great workout for me, but they also have allowed me to continue running, lifting weights, walking the dogs, paddle-boarding and traveling. My time in the studio has become what I like to call "Life Support." As I continue to move deeper into my yoga practice, I have found that I am more resilient, more flexible both mentally and physically and more patient with my family, our family owned business and with myself.
I have a B.S. in Exercise Science and a B.S.N.
I worked as an R.N. for many years specializing in all forms of cardiac care with my favorite being Cardiac Rehab. I simultaneously worked as a certified fitness instructor before making the life altering decision to stay at home my two boys.
Following a nursing career and raising my kids, I became an instructor at the studio in 2019 and took ownership of the studio in 2020. A new chapter in my life.
Thank you, Topeka studio owners (Beth and Leigh) for friendship and support.
I am so excited to share my passion of yoga with you through Lava Yoga Lawrence. Come see me!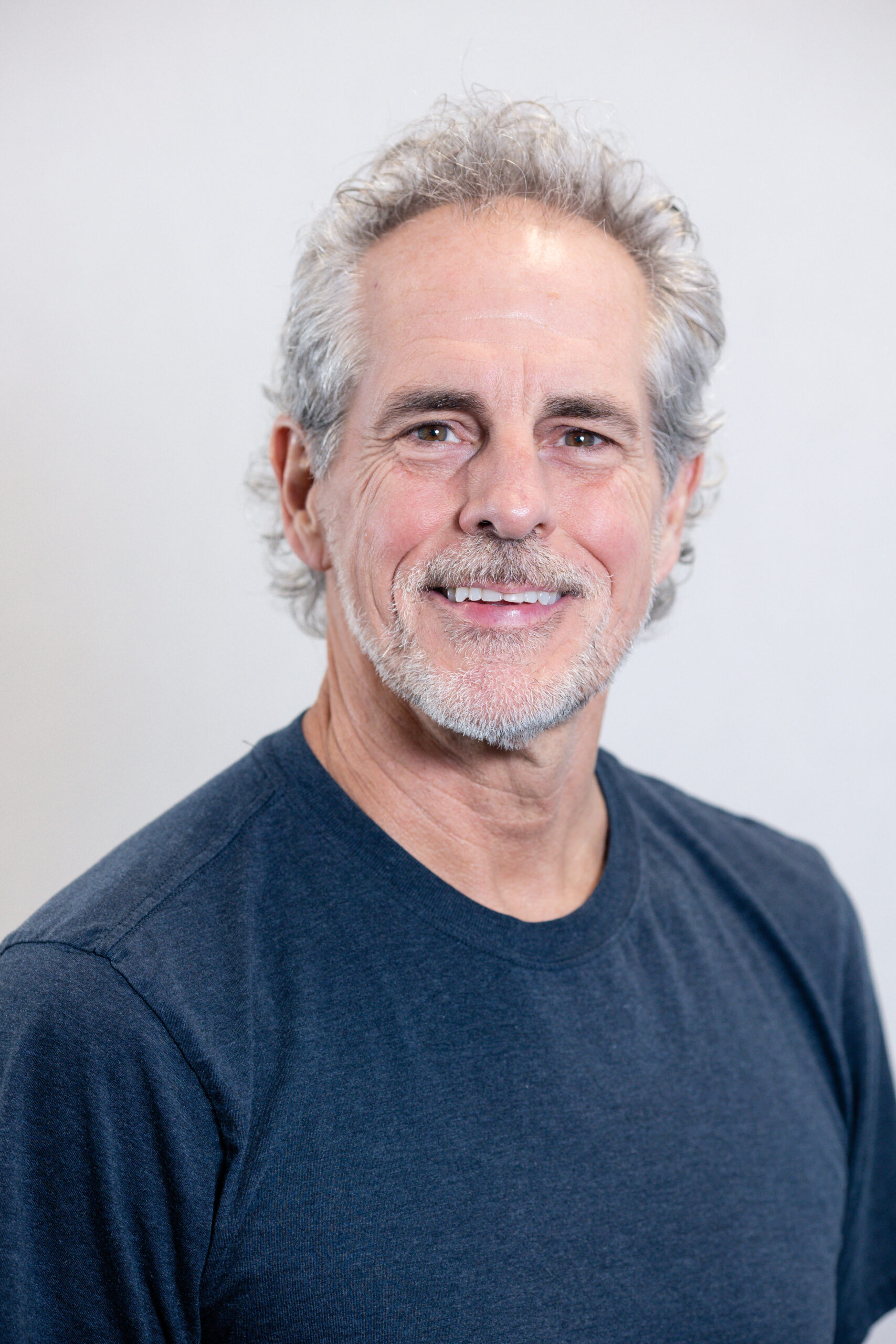 Craig Pruett
E-RYT 500, YACEP
My yoga journey started in 2006 right after a haircut at my favorite barber shop. I walked into a Bikram studio and signed up for a month of unlimited yoga. I was immediately drawn to the heat and humidity of the room. It helped my body with stretching and needed conditioning. What I didn't realize at the time was that the yoga that I was practicing daily was helping create a connection to something that I was needing in my life. A connection back to myself.
I practiced Bikram yoga consistently for 9 years. I even competed in several USA Yoga events. The competitions were designed to bring the yogi into an appreciation and self-realization of their own practice, which it did do for me. I did not try other yoga styles until the summer of 2015 when the Bikram studio that I was attending was shutting down, I decided to attend a Yoga Works 200 hour teacher training at Om Tree Yoga in Lawrence Ks. The teacher training was extensive and thorough with lots of reading, practicing and instruction of yoga and its processes. In one of training sessions we were instructed to go out and try different yoga's and evaluate the different studios and their practices. This is when I found Lava Yoga. I was excited to find a hot studio again. Even better yet to be introduced to Beth, Leigh and the Lava staff. I have continued practice at Lava and have become very fond the studio, the classes and teachers. I have received my 300 hour "Evolution of a Teacher" by Natalie Savage which was offered at Lava Yoga and now hold my 200 hour E-RYT and my 500 hour RYT.
I am fascinated by every bit of yoga. Its postures and practices, its linage and future. Being a bit of a late bloomer into this yoga world I will quote Bikram "Never to old, never too bad, never too late, never too sick to start from scratch once again". I am excited to see where this process will take me in life. I look forward to meeting, teaching and taking yoga with you at Lava Yoga Topeka and Lawrence very soon!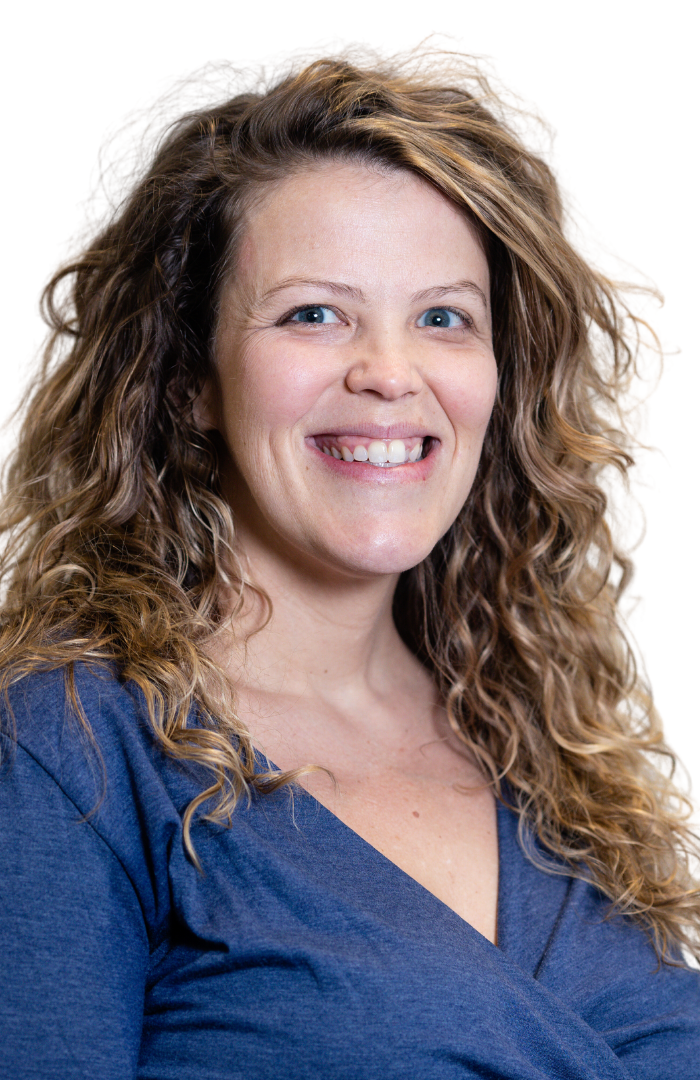 Rebekah Luper
RYT 200
Yoga has been something I have always enjoyed since taking my first class in 2007 but never had a dedicated practice until I started coming to Lava Yoga in February of 2018. I love the amazing energy, clarity, and peace I have after each class. I completed my RYT-200 teacher training in November 2019 under Natalie Savage and Leigh Granada. I look forward to continuing the study of yoga and deepening my own practice while seeking to hold space for others to explore the connection of body and breath. My other passions include gardening, sewing, creating art, reading, and exploring new recipes in the kitchen. I'm excited to work with you and grow together in our practice.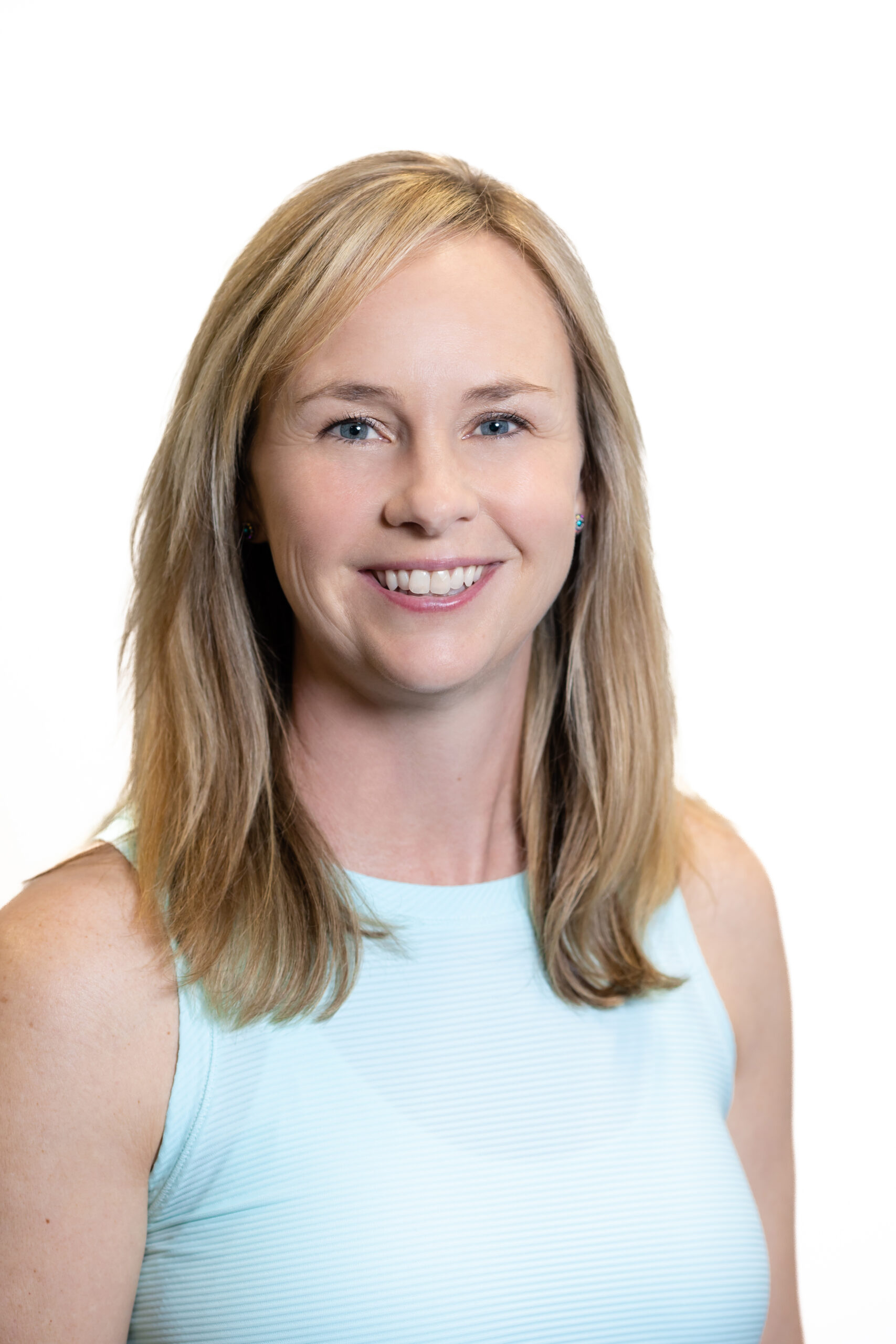 Becky Basore
RYT 200
My yoga journey truly began in 2015. I had spent the previous fifteen years as a personal trainer working with a very wide array of clients. It was always about more then fitness for me. I truly loved meeting people where they were at and having a positive impact on their life. I had taken yoga classes along the way but nothing really stuck.
Fast forward to January 2015 and my body was simply done. I had pushed too hard for too long and I was exhausted. I dropped everything and purchased a month of unlimited yoga at a local studio and committed to practicing as often as possible. I was hooked and never looked back.
I enrolled in their 200 hour teacher training program the following year. The program not only taught me the skills necessary to teach a class but also helped to deepen my practice. Yoga has truly transformed my life and I consider it an honor to be able to guide others through a practice.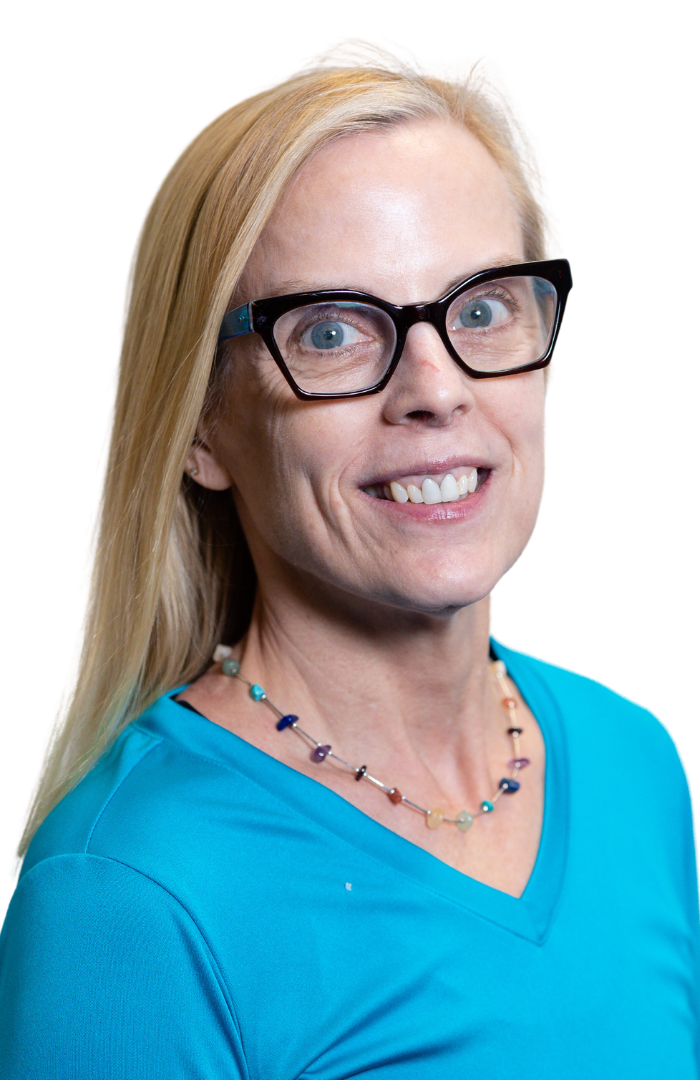 Susan Thomas
RYT 200
What started out as a way to get some exercise (that was not in a gym), has grown into a lifelong practice with a profound desire to share yoga with others. I was introduced to yoga in the early 2000's while gazing at an amazing mural inside a studio in Lawrence. I thought the mural was fantastic and I wanted to learn more about what was going on at this place. I had not been exposed to yoga before, so it was all very new to me – I had no idea what I was getting into! The studio was hot and humid and very different than anything I had ever experienced. But I kept coming back until it became a part of me. Now, I can't imagine life without yoga.
I grew up on a dairy farm in North Central Kansas –and have always felt a connection to nature and all of its vibrancy. I love that yoga provides a relationship to the earth, especially through the synchronicity of the postures and the breath. And being a Kansas farm girl, I love the heat. And the humidity. So, hot yoga is my happy place! I am currently a healthcare regulatory consultant, helping clients stay a step or two ahead of the government. So, believe it when I say it – I need yoga!
I live in Lawrence with my ever-supportive husband and our crazy, but super cute dog. We are empty nesters with one son in KC and one here in Lawrence. I completed the RYT 200-hour certification course as part of my "retirement plan". I want to maintain my fitness and stay active for a very long time. I look forward to guiding and practicing with yogis of all ages, abilities, and backgrounds, celebrating our similarities while honoring our differences.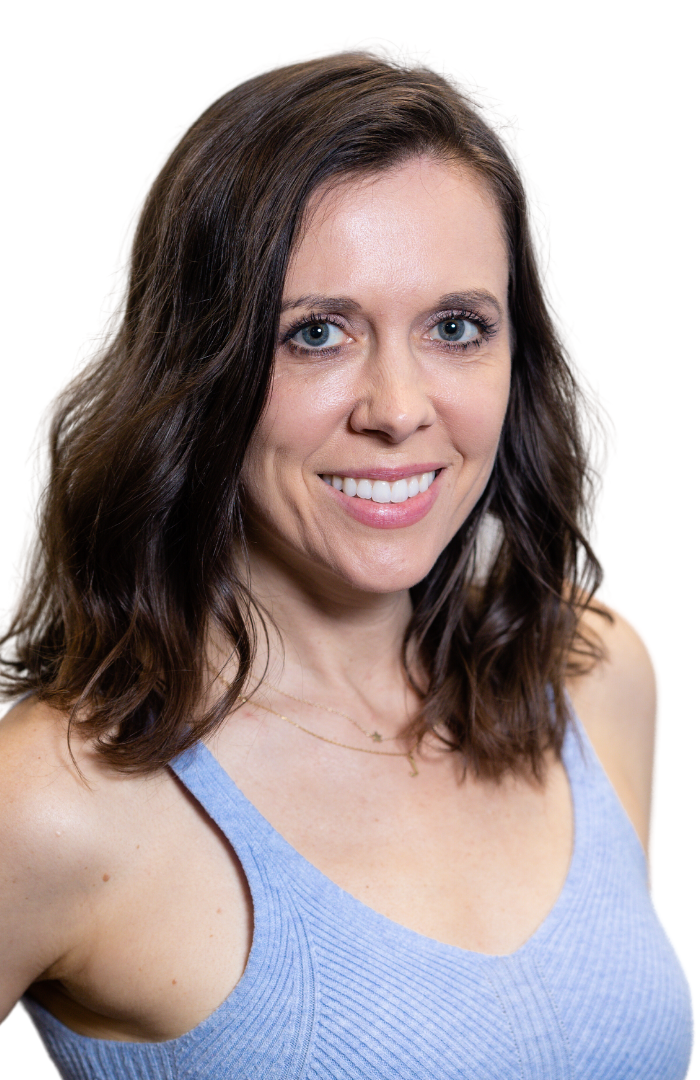 Janna Fackrell
RYT 200
I completed my teacher training in 2022 after actively practicing yoga since 2009. I have a deep love for yoga and decided it was time to further my practice. I am the co-founder of Sacred Hearts Healing Center where we offer private healing sessions, sweat lodges, women's circles, full moon healing circles, weekend retreats and much more. I am also the creator of Illuminessence, an all organic skincare company whose profits benefit the non profit retreat center.
When I am not actively involved in my businesses and teaching/practicing yoga; I  love tending to my garden, managing the Airbnb that's on site, hiking trails, and hanging with my dogs and family.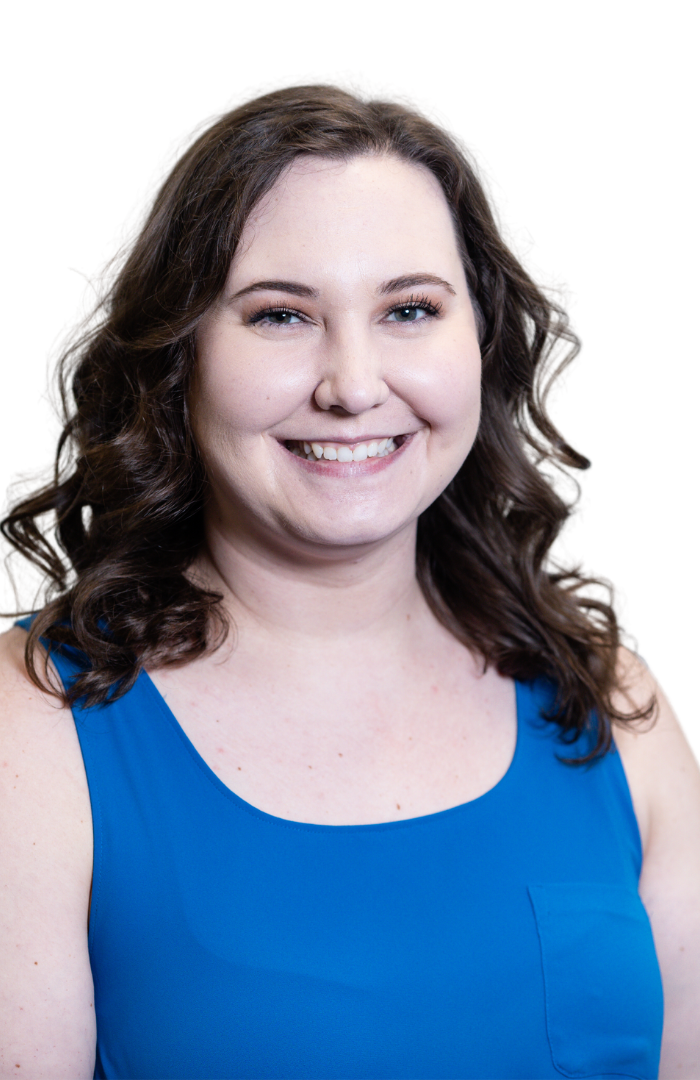 Lindsey Kraus
RYT 200
I am fortunate to have found yoga at different points throughout my life, turning to my mat and practice each time, looking for something different. This pattern repeated itself in 2019 when I was feeling burnt out from graduate school and seeking a connection to my body, mind, and spirit. I had practiced hot yoga before and loved the feeling of an intense yoga practice with the added heat that left me feeling relaxed and energized simultaneously. I found Lava Yoga Lawrence when searching for a yoga studio, and after my first class, I felt instantly welcome. I found an incredible community and studio to support my yoga journey.
As a student at Lava, I deeply appreciate the variety of classes and teachers that each offer a unique yoga experience and help me grow my practice. More, I leave each class feeling centered, energized, and strong. Yoga has brought peace and joy into my life on and off the mat, and I became eager to share that love of yoga with others.
I completed the "Evolution of a Student" RYT-200-hour yoga teacher training in December 2022, led by Natalie Savage and Craig Pruett. I am eager to share the practice of yoga with others. Everyone's practice is different, unique, and wonderful, and I am excited to be a part of your yoga practice.
Yoga, for me, is arriving at your mat exactly as you are and letting your body and breath guide you. So, whether you are new to yoga, an experienced practitioner, or looking to grow your yoga practice, I encourage you to try a Lava class. I am honored to be a part of the Lava team and look forward to seeing you in class!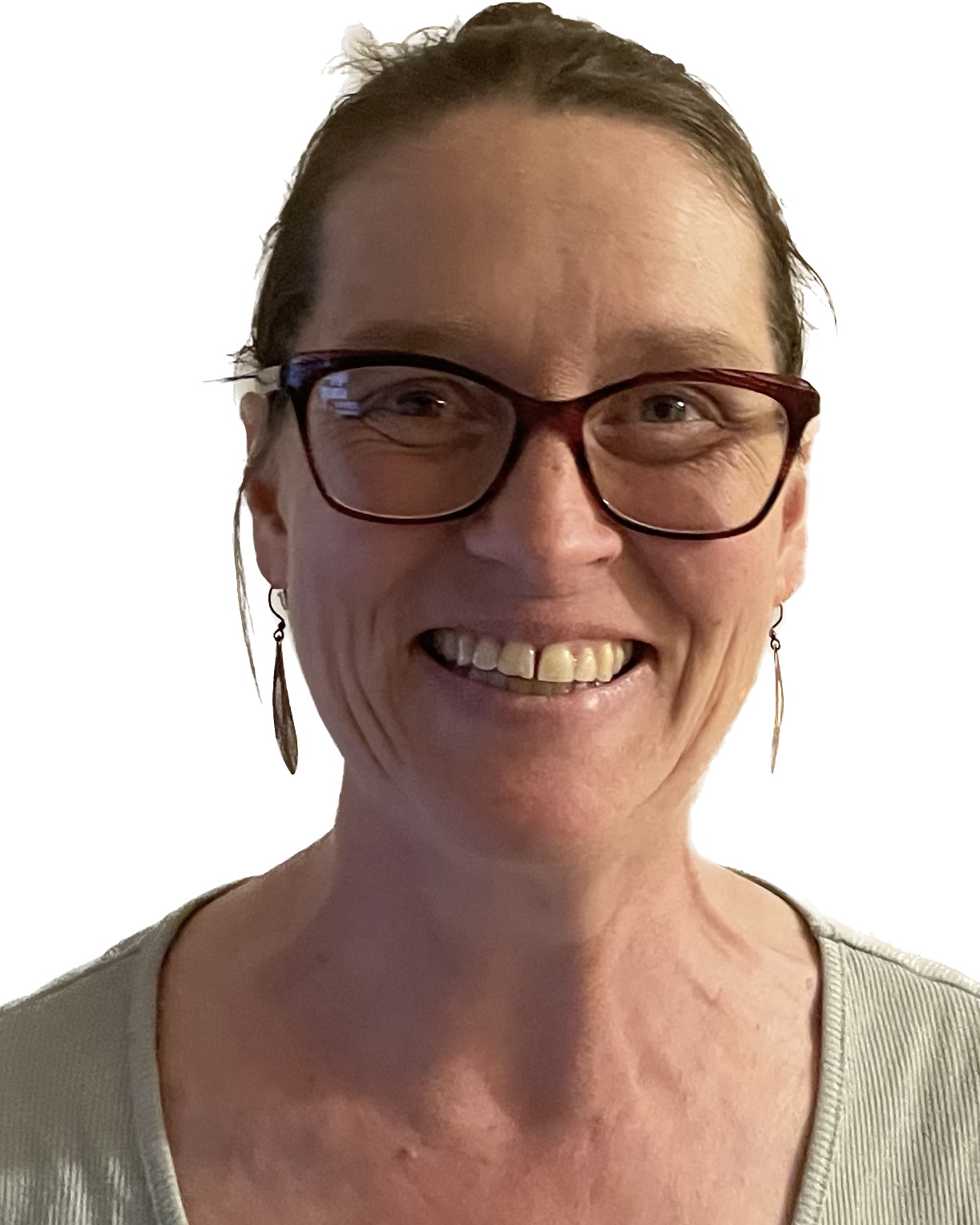 Nicole Negley
RYT 200
I am a Lawrence, Kansas native who left town at the age of 19, started a family, came back and raised my little people and then went to KU to receive a graduate degree in special education (graduated in December 2015). I believe in self awareness, self growth, self love and yoga! For kids and adults. I have been practicing many styles of yoga since I became pregnant with my middle child who is now 21. I have taught children for 8 plus years in both private and public venues. I received my 200 hour yoga teacher certificate with Gopi Sandal's Yoga with Heart program which focused on Bhakti yoga traditions and other love rhythmic yoga expressions and styles.
During my kids classes, I incorporate mindfulness, music, storytelling and self regulation which are geared for the needs of children 4-12 years old. I model for each child and frequently modify for each child and student/child's comfort level and ability. We have fun and make light of poses while learning to focus our attention and support our emotional growth as little humans in this ever changing, rapidly moving planet and society. Please ask me questions!
Love, Miss Nicole
Kid's Yoga Instructor, Yoga with Heart for kids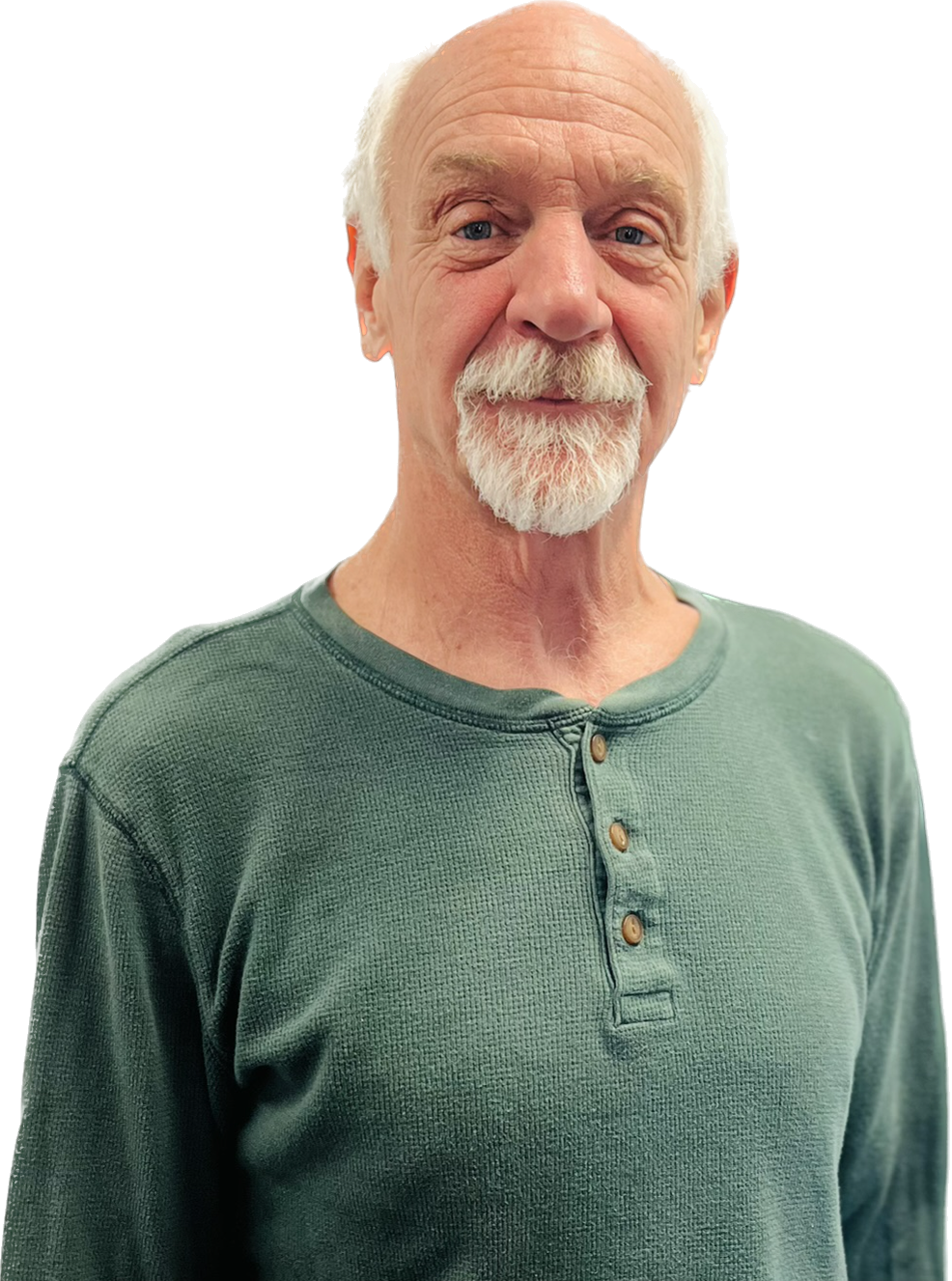 Mark Kramer
Bikram Certified
I have been a student of Bikram Yoga since 1989 and I am a Certified Bikram Yoga Methods Instructor since 2007. 'Nuf said. Come take my class. It's called "26 & 2".
Taylor Mullen
RYT 200
I started practicing yoga at the start of 2020 and have been practicing daily ever since I stepped onto my mat. I started practicing yoga for my physical health, but my practice has become much more than just physical. I was immediately attracted to the mental aspect of yoga and I have now integrated the mind-body connection into my everyday life. I fell in love with how yoga made me feel and I have become passionate about sharing my experiences to encourage others. I went through my 200-hour YTT in August of 2021 through Sumit's hot yoga and I have been teaching ever since. I teach hot yoga classes, flow classes and sculpt yoga. I love how teaching yoga allows me the opportunity to help empower others to live their most authentic lives, promoting growth over perfection. I have a strong desire to help others physically, emotionally and spiritually and to be a part of their pursuit of wellness. Outside of teaching, I am a Sophomore at the University of Kansas and am studying marketing and Spanish. I enjoy traveling, going on hikes and spending time with my friends, family and dogs.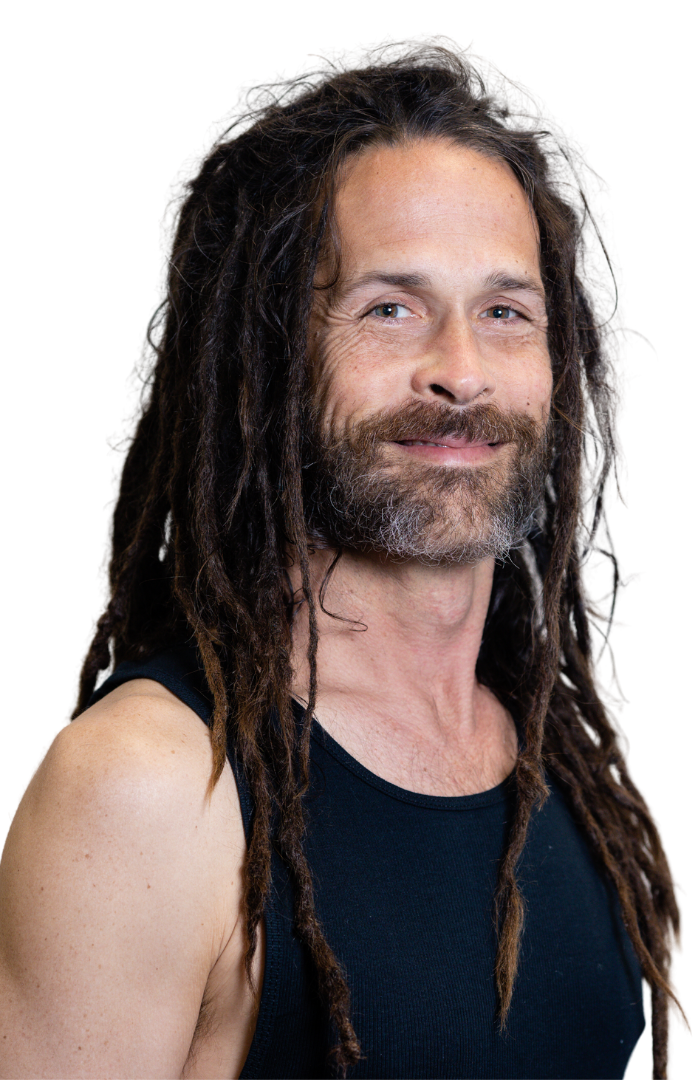 Andrew Haggart
RYT 500
Andrew began a more conscious journey with Yoga around 2008, after knee and back injury pain from work and play had gone too far.
Experiencing life at a higher altitude, hydration, flexibility and endurance took on a new meaning. He discovered Bikram Yoga beginning series and transformed in the heat. Through 8 years of cleansing rehydration and rehabilitation, Andrew developed love and fascination with Asana, Pranayama, Ayurveda, Meditation and Sound Therapy.
To branch out and grow the tree, Andrew completed a 200 hour, B.K.S Iyengar alignment based YTT at the Costa Rica School of Yoga. He has worked to receive his 300 Hour "Evolution of a Teacher" offered at Lava Yoga and taught and developed by Natalie Savage and is now 500 Hour RYT. Drawing inspiration from Ayurveda and Kundalini Yoga, Andrew practices and teaches Yoga from the Heart.
He loves to surf, swim, hike, ride, climb, play and sing songs about love.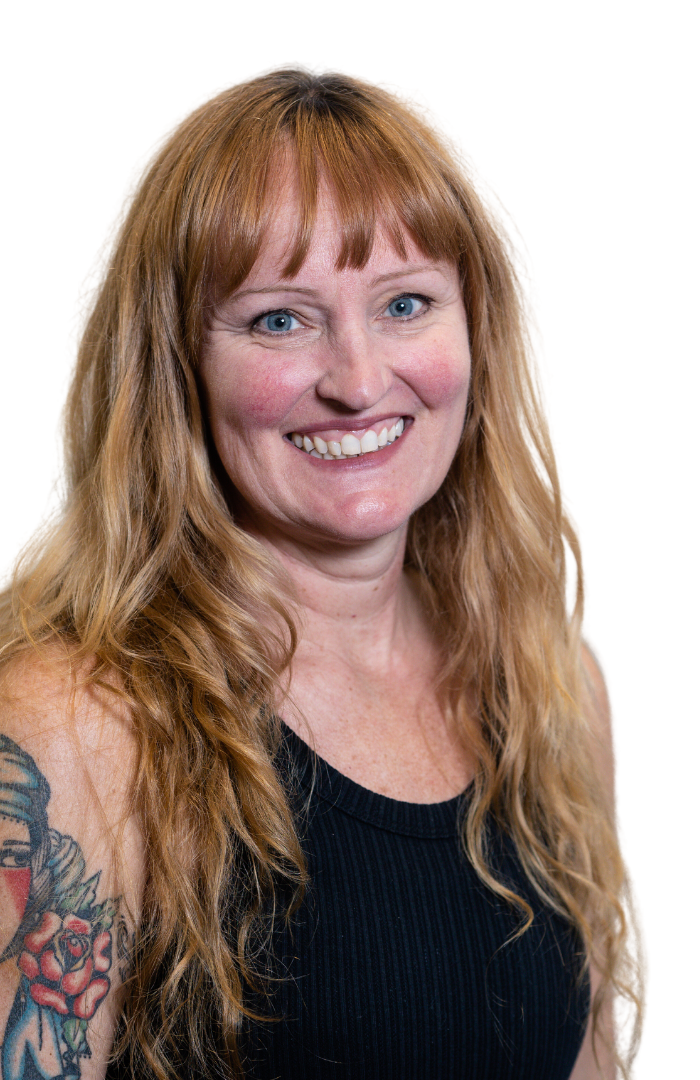 Natalie Savage
E-RYT 500, TIYT, TACP
Natalie Savage is a trauma-informed yoga teacher and movement educator. She completed an advanced yoga therapy teacher training at Kripalu Center for Yoga and Health, in 2015 and holds the designation of 500 E-RYT. The training had a significant impact on her personal practice and framed yoga in the context of healing.
From that point forward, Natalie has dedicated her career to sharing the benefits, techniques, and practice of yoga in group classes, private sessions, workshops, and teacher trainings. Her commitment as a student, continues to fuel her inspiration as a teacher. She emphasizes alignment through body awareness and proper muscle engagement, self-empowerment, and the power of the breath in her classes. In 2022, she completed another 500-hour training with Lara Heimann, and is a registered LYT®️ instructor integrating functional movement, strength, and sustainability as cornerstones in her classes. Her yoga practice and teaching style have been influenced by honored teachers including, but not limited to, Joseph LePage, Maria Mendola Shamas, Genevieve Yellin, Leslie Howard, and Lara Heimann.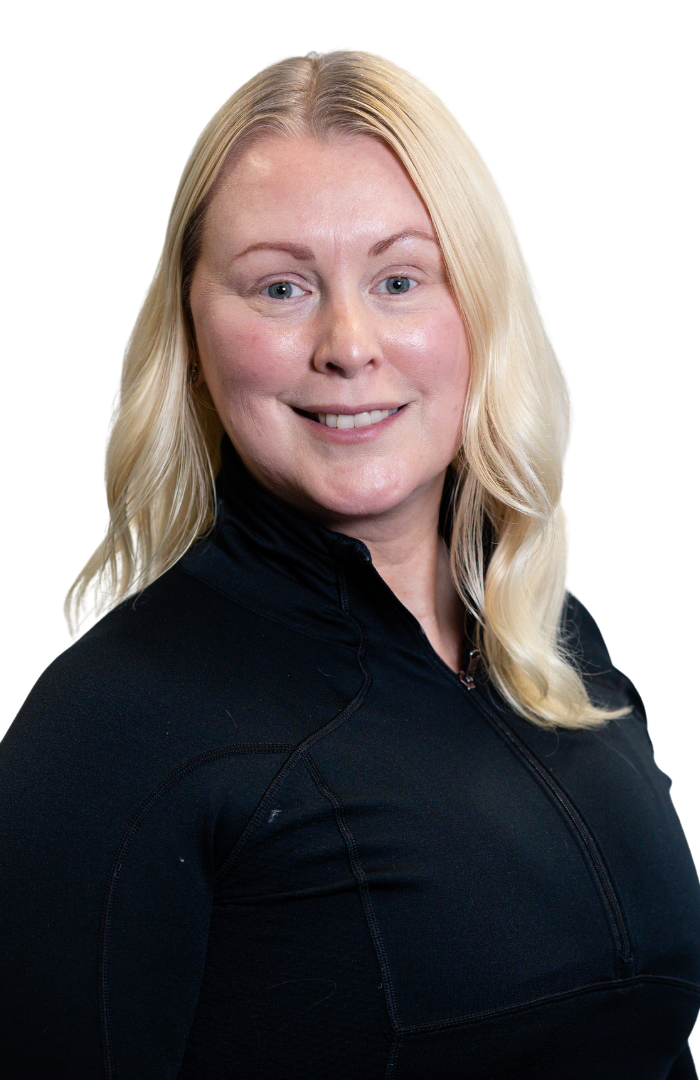 Yvette Smith
RYT 200
I have loved health and wellness for as long as I can remember. I grew up swimming and diving and took every fitness class imaginable… from kickboxing to pilates reformer, yoga and spin! I love adventure and enjoy scuba diving and traveling.
As a RYT 200 Certified instructor, I love the ability to share yoga with others, making new friends and becoming more of myself in the process. I developed a passion for yoga 2 years ago after attending my first 'hot' class. Yoga helped me center and ground during a difficult time emotionally, it felt like an intense therapy session. I like to call it 'Movement Medicine'. I left feeling refreshed, renewed and I could not wait to return!
My previous career was in the medical aesthetics industry. During this time, I gained interest in many healing therapies. I am also a licensed aesthetician and Reiki practitioner. I treasure my time with clients, working closely with them and providing services.
I live with my husband Shane on the farm where he grew up, here in Kansas. We moved in 2 years ago and took on a full renovation! Together, we have 4 incredible children and our furbaby, Luna, a chocolate labradoodle.
I am SO honored to join the wonderful Lava Yoga Community! I look forward to seeing you in class soon.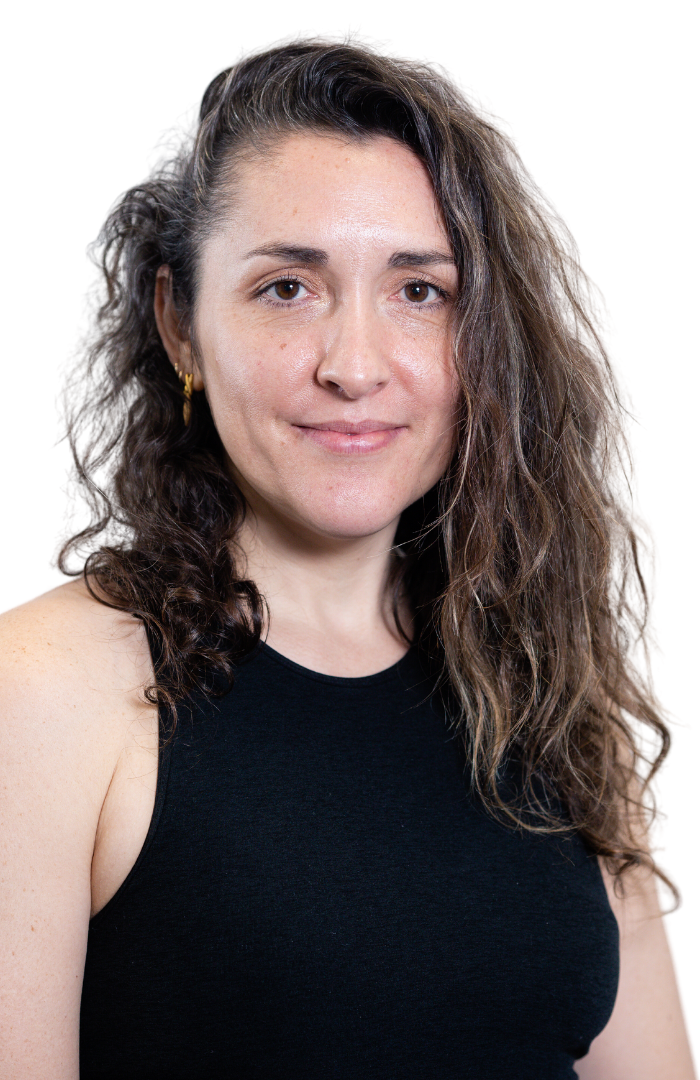 Courtney Vardar
RYT 200
My passage in to yoga began when I was 13 years old. I had structural issues and needed some relief. I went to my first Hatha yoga class and loved it. When I was 18 years old I went to my first Bikram class (26&2). The repeating of postures along with the holding and heat began to change my body. I could see in the front mirror my spine straightening, my hips leveling. The yoga was healing my body! I have been an enthusiast every since.
I completed my R.Y.T. 200 hour Yoga Alliance certification in 2016, first with Bhavani Maki and then Om Tree Shala. I have studied Iyengar, Ashtanga, and other styles and appreciate all of them! I hope to continue to learn and grow in my yoga knowledge through teaching.
When not doing yoga, I enjoy hanging with my husband and two little girls. I love traveling, designing clothing and shoes, collecting and selling artifacts, and running in the woods.
Courtney Vardar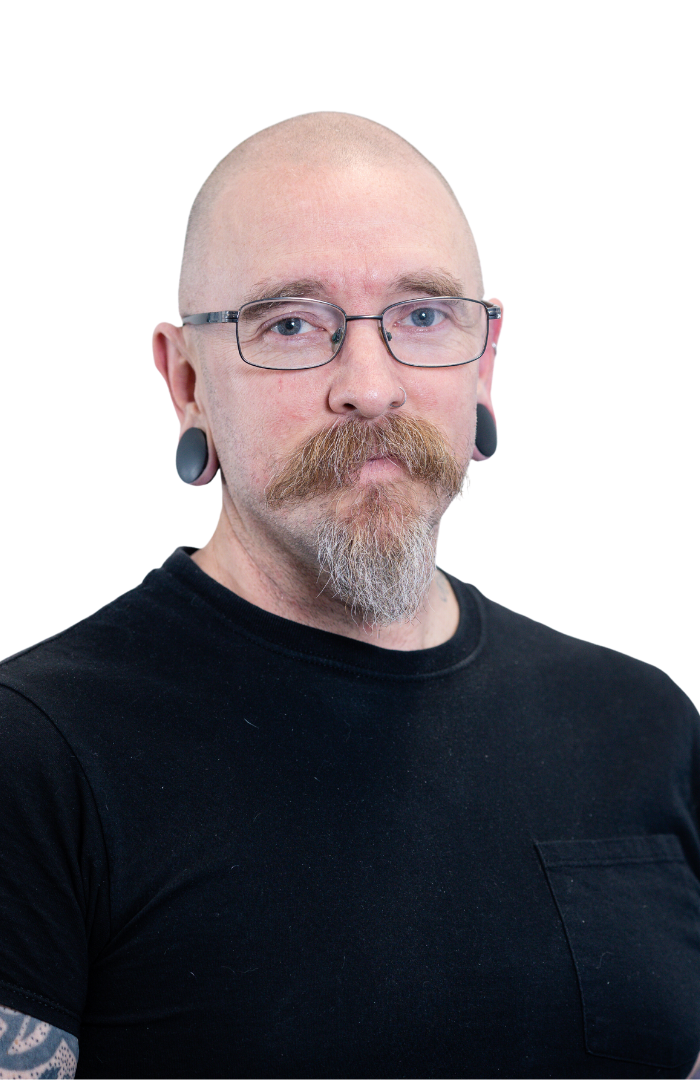 Damian Laster
E-RYT 200
I tried starting a home yoga practice off and on for years with varying success. When I first heard of Lava Yoga opening I had a strong pull to try it but "Life" got in the way. Fast forward a few years, after a major life change and a decision to put the needs of myself and my family first I finally made the time to come in to Lava Yoga. I was hooked! I have since become a student of Yoga and the many facets that it has to offer. It has truly transformed my life. I believe in creating a strong foundation to build a solid and sustainable practice on. I'm excited to share my passion and love for what yoga has to offer both on and off the mat. I look forward to growing my practice and yoga family, and bringing as many along for the ride as I can.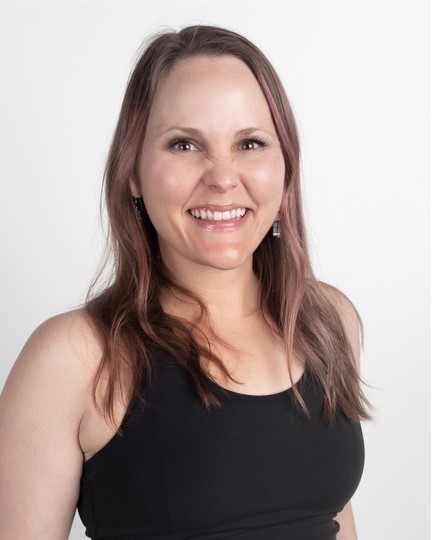 Megan Feighny
RYT 200
My yoga journey began when I was working as a nurse practitioner in the trauma department as a way to manage stress as well as find physical exercise. As time passed, I realized how much I truly needed yoga and physical activity to find balance in my everyday life. I completed my 200 hour yoga training at OmTree Shala in 2018 and in 2019 completed Pre/Postnatal and Mommy & Baby training at Home Holistic.
When I am not teaching yoga, I am the busy mother of two boys, practicing as a Nurse Practitioner, and simply trying to enjoy life to the fullest.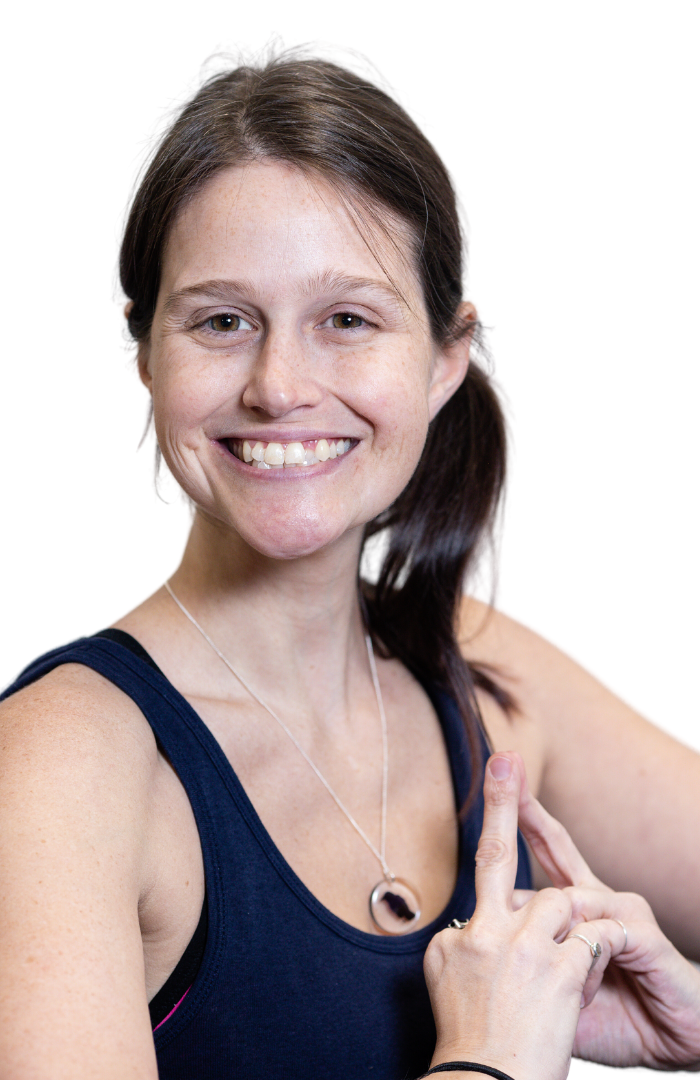 Amy Mullen
RYT 200, Yin Certified
My yogic journey started in 2014 to help me manage my own chronic pain. I quickly branched out to other variations of yoga practice, studying specifically to energize, heal, strengthen & relax the body naturally using the science that is yoga.
I received my 200 hour certification in 2014, I completed the Level 1 Yin Certification from Carole Westerman and my Kundalini Guru is Kia Miller.
Please join myself & other fellow students of life to nudge the body towards balance physically, mentally & emotionally. Allow yourself to shine! All are welcome. I cannot wait to join & grow a new community for Kundalini & Yinstorative.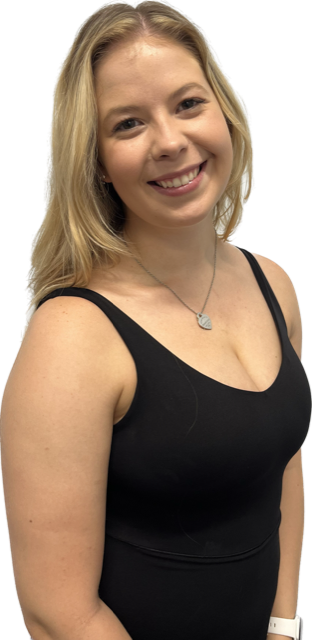 Katie King
RYT 500
Hi everyone! My name is Katie and I have been practicing yoga since I was 17 years old. I have been teaching yoga for the last four years and have loved every second of it. I love connecting with all types of people and challenging myself. I am 500 Hour RYT certified in Multi-Style Vinyasa as well as Yoga Nidra, Restorative Yoga, Yin Yoga, Adaptive Yoga, and Trauma-Informed Yoga. 
When I am not teaching or practicing yoga, I am probably studying. I am a law student at KU. I plan to become a criminal defense attorney and represent clients charged with capital punishment. I also love playing with my cats, baking, cooking, going on walks/hike, and speaking Spanish and German. 
I love connecting and chatting so if you see me, feel free to say, "Hi"! 
Ready to Make a Change?
We have a great introductory offer to get you started. Two weeks of unlimited yoga for just 20$. A great opportunity to try out a variety of classes.
On a budget? We offer two community classes at half the cost. There is no on-line sign up for these classes, just come on in!
Wednesday evenings at 7 p.m. and Saturdays at 10 a.m.